NYSPHADA AWARDS ANNUAL SCHOLARSHIP at SPRING CONFERENCE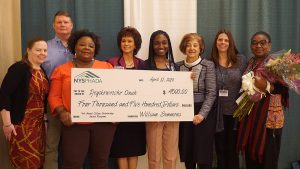 The 2018 NYSPHADA Scholarship has been awarded to Ijeyikowoicho (EJ) Onah.
Ijeyikowoicho (EJ) Onah is a senior at Ithaca High School in the beautiful Finger Lakes region of upstate New York. She is a record setter on the Track & field team at her school and specializes in the long jump, but she also enjoys sprinting. She is part of the Captain's Council which is composed of a group of captains from each sport who collaborate on how to bring awareness to high school athletes.
In her Freshman year, she was a member of the African Latino club which was founded to support the social, academic and cultural welfare of people of color. EJ was a mentee in the Big Brothers/Big Sisters Program. EJ was a member of Girls Who Code, a non-profit organization that aims to support and increase the number of women in computer science. Furthermore, she is a   member of the National Society of Black Engineers, a national organization that aims to increase and support the number of African Americans in STEM fields such as technology, science, engineering and math. She has won the African Latino   Certificate of Merit in both 10th and 11th grade for having an accumulative GPA of 3.0 or above.
EJ started working when she was 13 years old, and some of her jobs included being a camp counselor at the Greater Ithaca Activities Center, a server at a local           restaurant and hotel, a research intern at a local nonprofit organization, and an IT intern at City Hall. Each job provided valuable experiences that gave her an idea of what she wanted to do when she grew older – to provide women in third world   countries with more economic opportunities. She desires to learn the fundamentals of business so she can pass the knowledge to women she hopes to aid someday by helping them create businesses. This is the reason why she wants to study business at the University of Albany in the fall of 2018; she will be located in the capital of New York which is close to great job opportunities after college that provide     workforce entry employment in the area (s) in which she wishes to work. While at the University she plans to continue running Track and Field where she will       continue her specialization in the long jump and has her sights on breaking college records! Outside of school, she reads, watches documentaries, biopics and historical drama, and researches facts about royalty, specifically about the royal families of Europe. Her dream is to be the CEO of a successful micro lending company.
CONGRATULATIONS!